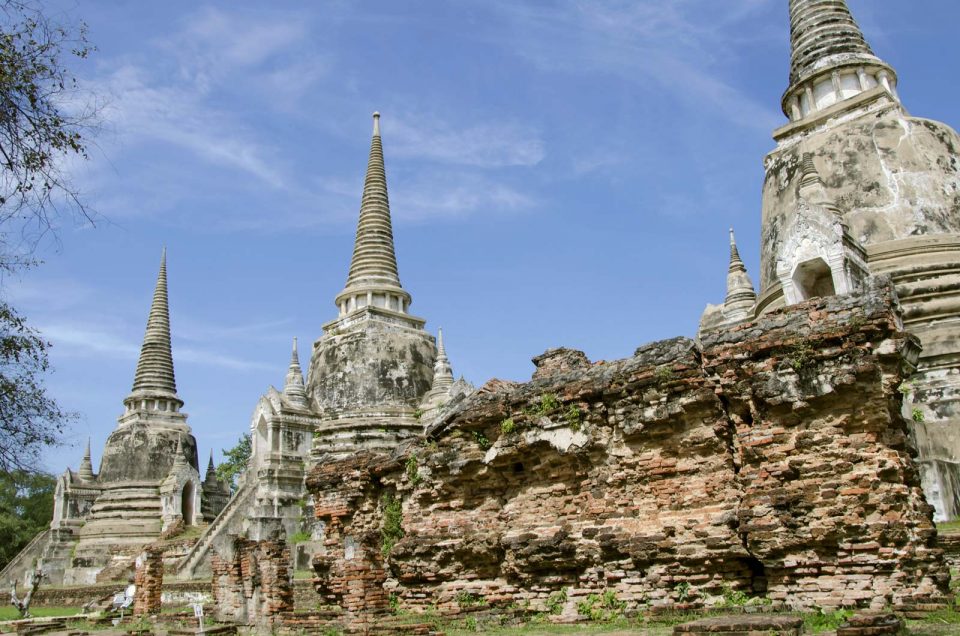 Indian travellers often fail to realize that Thailand is so much more than its capital city and here's a list to prove it.
1. Chiang Mai & Chiang Rai
It may be the largest city in northern Thailand but these two places haven't been hit by the throngs of tourist that frequent Pattaya, Bangkok and Phuket, yet.
Overflowing with picturesque landscapes, friendly hill tribes and elephant sanctuaries, Chiang Mai and Chiang Rai boast of some really kick-ass and offbeat experiences.
Highlights/What to do:
1.) Do not miss dropping by the elephant sanctuaries. You can get up close and personal with the adorable giants. Indulge in a little mud spa and bath session with the elephants!
2 .) An absolute contrast to the numerous golden temples you'll see all around Bangkok and the rest of Thailand, Chiang Rai is home to the stunning silver or white temple called Wat Rong Khun!
Highlights/What to do:
1.) Do not miss dropping by the elephant sanctuaries. You can get up close and personal with the adorable giants. Indulge in a little mud spa and bath session with the elephants!
2 .) An absolute contrast to the numerous golden temples you'll see all around Bangkok and the rest of Thailand, Chiang Rai is home to the stunning silver or white temple called Wat Rong Khun!
4.) Explore the jungles like Tarzan!
Skip the usual hikes and jungle treks, try out the Flight of the Gibbon Tour. A jungle adventure through the eyes of a gibbon which allows you to have a breath-taking view of the rainforest as you zip line your way through the jungle canopy!!
The cost of this experience is very nominal
5.) A visit to Mae Kampong is definitely refreshing.
Experience rural Thailand, its postcard landscapes, sparkling waterfalls and seize the opportunity to have a cup of local coffee at the coffee shops around the village and have a chat with the friendly locals.
How to reach:
There are flights directly going to the Chiang Mai International Airport from India (via Bangkok).
You can also take a bus or rent a taxi from Bangkok or any other place in Thailand to get to Chiang Mai.
Daily trains operate from Bangkok's Hualamphong Train Station to the Chiang Mai Station and take about 12-15 hours to reach Chiang Mai. The train journey from Bangkok to Chiang Mai is fairly comfortable and one has the option of traveling first or second class.
Getting from Chiang Mai to Chiang Rai is straightforward, although the highway between the two northern cities stays perpetually busy. The best way to travel between these places is to grab a cheap bus or hire a private car or a taxi.
2. Ayutthaya
Nestled amidst forests, on an island surrounded by three rivers Ayutthaya is probably one of the most spectacular cities of Thailand.
Founded in 1350, it used to be the capital of Thailand until the Burmese attack of 1767. Today the ruins of the attack are considered an important visiting spot. This place is like the Angkor Wat of Thailand.
Highlights/What to do:
1.) Get lost at some of the most impressive temples in all of Thailand.
2.) Witness the most famous statue of the Buddha's head entwined in the roots of a fig tree at Wat Mahathat.
3.) Rent a bicycle and make a day of it, and make sure you're there to catch the sunset – the sun coming down on these temples is mesmerizing.
4.) Go on a photo-walk!
The combination of the lotus-filled ponds sitting at the feet of the temples and statues make for a pretty scene, providing the perfect opportunity to click some unique photographs.
How To Reach:
The ruined old city of Ayutthaya is situated only around 80 kilometers (50 miles) directly north of Bangkok. There are several different options for travel from Bangkok to Ayutthaya, including car, minivan, bus, and train. While cabs are more convenient for tourists, a train is the cheapest and the most scenic route.
Trains depart from Bangkok's Hua Lamphong Station, which you can reach via the MRT, and they leave regularly throughout the day.
3. Koh Chang
The beaches of Phuket and Bangkok have become over-crowded, thanks to the spurting Indian and international tourist population. Skip these overdone beaches and choose from Koh Chang, Koh Mak, and Koh Kood.
These are neighboring islands – each one with its own gorgeous snorkeling spots and powdery white-sand beaches.
Highlights/What to do:
1.) Soar above the beautiful island of Koh Chang, the second biggest island in Thailand.
Get to take in Koh Chang's beautiful scenery from above while zipping, swinging, and biking from treetop to treetop! Try out any of the treetop activities available.
Cross rope bridges, Tarzan swings, the "flying skateboards," walk the tightrope and try zip-lining.
3.) Indulge in Beach bumming at Koh Chang's most popular, white Sand beach or head for Klong Son beach or Lonely beach to bask in some sunshine at these pristine water, isolated beaches.
4.) Get some underwater action, grab your gear and go snorkeling.
You'll discover the astounding reefs, a myriad of pretty corals and colourful schools of fish that Koh Chang has to offer.
How to reach:
You could book a private transfer that will take you directly from Bangkok to Koh Chang. With a pickup straight from the heart of Bangkok near Khao San road, getting to this tropical wonderland isn't that difficult after all and take about 6 hours.
4. Phi Phi Islands
Phi Phi islands is another heavenly beach getaway destination for those who just want to live the island life all day, every day.
Highlights/What to do:
1.) Soak in the tropical vibes as you laze around the beach for an afternoon snooze or paddle in crystal-clear, aquamarine waters.
2.)Explore and uncover the towering karst landscapes to secret caves within the seas and lagoons.
3.) Snorkel with the amazing bio-luminescent plankton (that glow in the dark or at night).
4.) Island-hopping from Maya Bay to Monkey Island and Pileh Cove, and swim and snorkel to your heart's content.
5.) Start your night on a high note at a beach party with a fire show or on a sublime note by watching the sunset on kayaks around Koh Phi Phi.
6.) A soothing Thai Massage at Phi Phi Villa Resort or an energy fueled session at pirate island adventures house.
How to reach:
This group of six islands is located 46 km from Phuket and roughly the same distance from Krabi. To get to Phi Phi, there are basically two options: ferries and speedboats.
The ferry is by far the most popular method of reaching the islands. Ferries take about two hours from Phuket and 90 minutes from Krabi or Koh Lanta. The main departure/arrival port in Phuket is Rassada Pier, located in Phuket Town. In Krabi, the main ferry pier is Klong Jirad Pier, situated just south of Krabi Town.
5. Kanchanaburi
Kanchanaburi, famous for the Burma Railway constructed by POWs during WWII is situated in western Thailand. Kanchanaburi is a great place for travelers of all kinds; from thrill-seekers, explorers to history buffs!
Highlights/What to do:
1.) Spend two hours on one of Thailand's most popular train journeys.
2.) Head to the floating markets on River Kwai where every daily use item is sold on boats. Brush boats with the locals' produce-laden boats and feel free to bargain to your heart's delight.
3.) Sojourn to the famous Erawan National Park to explore the secret caves and swim at the famous Erawan Falls and the many natural plunge pools you'll encounter on the way.
Take your pick from the variety of hiking trails and admire the flora and fauna as you trek your way through lush vegetation to the fall. As you make your way to the clearing, don't be surprised to see the locals frolicking around the emerald-green pools of the sparkling seven-tiered waterfall.
The pools are perfect for swimming in and you'll even find fish in them too!
How to reach:
A few hours by road from Bangkok, Kanchanaburi is best reached by road or train.
There are two trains a day, leaving at 07:50 and at 13:55. The train ride to Kanchanaburi is scheduled to take about 2.5 hours but is often closer to 3 hours because of the usual delays. Buses to Kanchanaburi from Bangkok depart from multiple locations around Bangkok here are 1st class buses (with toilet and air-conditioning) and 2nd class buses.
A little different to the regular minivans mentioned above, there are also tourist minibuses operating between Bangkok and Kanchanaburi. You can also take a private taxi.
6. Railay or Rai Leh
Accessible only by boat, at a 15-minute ride from Ao Nang lies Rai Leh.
Surrounded by karst cliffs, Railay, also pronounced as Rai-Leh, is encircled by four beaches on its sides, making you feel like you're actually on an island. Though the karst topography has left it isolated and devoid of road access, the extravagant high-end resorts here are what Thailand dreams are made up of.
White sand beaches, the soaring cliffs, the laidback vibe, of caves, a lagoon hidden inside the cliffs. All within walking distance. There are no roads; only footpaths. No buses, no cars, just long-tail boats in Railey!
Highlights/What to do:
1.) Let your hair down at some epic party scenes that Railay's nightlife has to offer!
Railay has a great nightlife. From relaxing around good Bob Marley music in east Railay to the crazy full moon and black moon parties in west Railay, everyone can choose their own niche. On the beaches of Railay west, there are impromptu beach parties and fire dancing until the sun rises.
2.) Check out the bizarre"Penis carvings" on the beach.
Phra Nang Beach in Railay holds a peculiarity. On the southern side of Phra Nang Beach, you'll find a strange little cove full of "phalluses".
These are penis carvings placed here by fisherman, other locals, and visitors as offerings to the princess of the cave who will bring them prosperity. It's a pretty odd sight and that's part of what makes it so interesting.
3.) Island hopping on luxury boats.
This long-tail boat tours from Railay takes you around all the surrounding picturesque islands on a private boat. You can directly book the four island tour with the boatmen on Railay Beach.
4.) Snorkeling, Rock-Climbing and Beach Bumming.
How to reach:
The closest airport is Krabi International, located some 30 kilometers east of Railay. To reach Railay from the airport you could catch the airport shuttle bus to Ao Nang or Ao Nammao pier for 150 baht and then hop on a boat.
You can also book transfers through Railay-based travel agents to tourist destinations that will include the boat ride from Railay plus a bus or minibus (van) ride and possibly another leg by ferry.
Public long-tail ferries to Railay depart from three places: Ao Nammao, Ao Nang and Krabi town. There are also year-round ferries plying to Railay from Phuket and the Phi Phi lands.
7. Hua Hin
Relaxed and friendly, this former fishing village about 125 miles from Bangkok makes a scenic stop on anyone's Thailand itinerary.
With a 3 mile stretch of white beaches and clear, turquoise waters, this destination will keep you busy with a vibrant night market, nearby Buddhist temples, waterfalls, elephant rides, scuba diving, and golf. This is where Bangkok locals head for a weekend getaway.
Highlights/What to do:
1.) Hua Hin islands with its sandy beaches, warm and shallow water, reefs and coral formations and abundant marine life, makes an excellent place for scuba diving. You'll find a number of shops that offer scuba diving lessons.
2.) Rent a cycle and explore the surrounding small fishing hamlets, Limestone Mountains, vineyards, jungle valleys and national park.
3.) Bask in sun-rays inside of a secluded Thai pavilion in the Khao Sam Roi Yot National Park.
The national park is a 1-hour drive from Hua Hin and legend has it, 300 Chinese tradesmen sought refuge throughout the islands after their junk boat capsized. Khao Sam Roi Yot, today is a labyrinth of caves, coves, desolate islands, freshwater marshes, and ethereal caverns.
4.) Walk over the marsh on the pretty bridge at Bueng Bua Wood Boardwalk and click away. It is a 1 km long bridge with a beautiful natural backdrop.
5.) Relish a slice of Greece at the Santorini park in Hua Hin which is a beach-front mall, amusement park and dining center.
How to reach:
Daily buses operate from Bangkok's Southern Bus Terminal to Srasong Road in Hua Hin. Options of buses available include both air-conditioned and non-air-conditioned and the duration of the journey is about 3 hours.
The cheapest ways to reach Hua Hin is by rail. The railway station is located right in the centre of the town where daily trains from Bangkok operate. The journey time from Bangkok to Hua Hin is approximately 4 hours. You can also hire a cab or rent a car.